Events Information
Welcome to our Events Information page! 
We post events for Church and Community non-profit organizations FREE of charge. The events are also read on-air on WTSB Radio 1090AM, also FREE of charge. 
We appreciate everyone sharing events and letting us get the word out!
How To Submit Events
You can submit events to us in 2 ways:
Use the "

Events

" Tab on our website and pull down to tab "

Submit Your Event

" and fill out the form and that information will be emailed to our staff for review.  
Send us your event information by emailing Events@JoCoReport.com.
All events are reviewed and approved before being posted on our site.
---
Event Sharing – Social Media 
Some features in your event posting that you will want to take advantage of:
 1.   Ma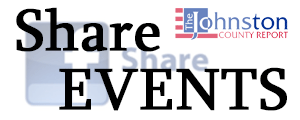 p your event using Google Maps so others can see the exact event location. All we need is the address including zip code.
 2.  "Share" your Church or Community Event on FaceBook and other Social Media after we have  posted your event on JoCoReport.com.
Simply click on the Event Listing, then use the icons to let everyone know about your Event!

We appreciate everyone sharing events and helping us get the word out!
If you have any questions please email us at Events@JoCoReport.com
or call WTSB Radio 1090 AM during regular business hours at 919-934-6789.